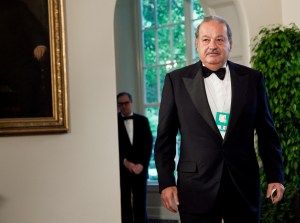 Jesse Lichtenstein's Times Magazine cover story this weekend discusses U.S. State Department diplomacy in the age of Twitter, focusing on Jared Cohen and Alec Ross — two officials who are on the cutting edge of 140-character diplomacy.
The most interesting anecdote in the piece comes from Carlos Pascual, the U.S. ambassador to Mexico, who talks about a meeting with Carlos Slim last October in Mexico City. They were discussing how to use cellphones and Twitter to combat crime, and Mr. Slim got very excited.
Why not have a free short code for text messages so that anyone could report a crime? All personally identifiable data would be stripped from the S.M.S. before it entered a centralized database. From the database, the information would be fed into federal and municipal police systems, then could be monitored by a third-party NGO and mapped on the Internet publicly — in essence bringing anonymity and transparency to crime reporting. Just as important, the actions taken (or not taken) by municipal police forces would also be publicly traceable and monitored.

"I think there was a personal reaction on the part of Slim," Pascual says. "He's fascinated by these 30-year-old entrepreneurs that are two generations behind him."

According to Ross: "He went around the room and asked us all of our ages. He started nodding, and he goes, 'This is wonderful.' And he pushes this button and calls in his sons."

The meeting was scheduled for 40 minutes but lasted two hours. Slim offered, on the spot, to sponsor the free nationwide short code.
This is how the richest man in the world does business.