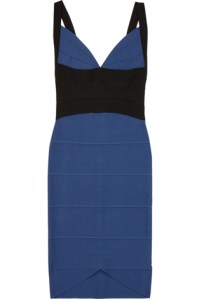 Sometimes, the popularity of a certain expensive article of fashion can be measured by the number of women who, not having saved the money to purchase it, attempt to steal it.
This has been the case, recently, with the ubiquitous Herve Leger minidress (pronounced Er-veh, Ley-Jeh), that flab-friendly blend of rayon, nylon and spandex that is like an industrial-strength, full-body pair of Spanx: constricting the unflattering parts of a women's figure while making her feminine attributes bubble out. "The best thing about these dresses is no matter what your figure, they look great on," the petit actress Lucy Liu has gushed to Women's Wear Daily. Regular women see this dress so often on television, in magazines and on the Internet worn by irregular women (Gisele Bundchen, Blake Lively, the Kardashians) that they believe they, too, deserve to own one, maybe even without having to pay for it.
Last week, the Upper East Side police precinct on East 67th Street received a call from an employee at the Herve Leger store on Madison Avenue to report a crime that occurred between 1:20 and 1:40 p.m. On July 21, in that bright, early afternoon daylight, three women who looked to be in their 20s, accompanied by a young man, entered the store and browsed the racks. While the women distracted the manager and a sales associate, the man, described to be about 6-foot-1 and 150 pounds, wearing tan shorts and white sneakers, grabbed three dresses hung up at the front of the store and fled northward on Madison Avenue. Without enough evidence to detain the women, the manager allowed them to leave the store. The dresses-a $7,200 long crystal black gown, a $4,900 black dress and a cream and black V-neck dress priced at $1,450-were never recovered and now hang in closets-perhaps those of the three women.
Just one week earlier, another four Herve Leger dresses went missing at Saks Fifth Avenue. According to the department store's security, interviewed by the midtown north precinct, on Sunday, July 11, around 6:30 p.m., two young women removed the dresses from a display and concealed them in a large shopping bag. This time the women, 20-year-old Felicia Therlonge and 22-year-old Crystal Alwood, were arrested and the stolen dresses recovered: a purple double-strap ($1,250); a blue wide-banded with a double V-neck ($1,050); a Batik bandage mini ($1,850); and another dress at the same price. The young women are being charged with Grand Larceny. (Back in October, Playboy model Tiffany Buecher filed a police report after her $1,800 Herve dress was stolen in the West Village while she was shopping.)
A rep for the fashion brand, when reached by the Transom, was surprised by the string of thefts involving the dress, but did not make Max and Lubov Azria, the designers behind the line, available for an interview.
And the brand was not the only victim of fashionable thieves in the past two weeks. On Thursday, July 15, Jade Shallow, a resident of Brooklyn, was arrested on grand larceny charges after she stuffed four dresses (worth a total of $17,140) by Azzedine Alaïa, the Tunisian-born couturier, into her purse at Barneys on Madison Avenue around 6:30 p.m. The next day, three young men-Shaquelle Alcindor, 20; Charles Gordon, 20; and Qadir Eng, 18, all of Brooklyn-were detained after they charged two pairs of sneakers for $1,890 at the Christian Louboutin boutique on Madison to a stolen credit card.
But perhaps the most sympathetic victim of a recent department store theft was Arun Jolly. On Wednesday of last week, the 27-year-old resident of the Upper East Side parked his bicycle in the Bloomingdale's bike rack on Third Avenue. Mr. Jolly, who was leaving for vacation in Belize the next day, had come to the store that evening to exchange a pair of swimming trunks purchased there earlier for a different size. When he returned to his Cannondale bike five minutes later, the lock cable was snipped and its Kenda wheels were gone. He carried what was left of the bike home, on his back. "I parked it right outside the door, like four steps away," said Mr. Jolly when the Transom reached him by phone Monday. He was at the airport in Belize, heading back home. "I'll probably use another lock or two in the future."
Since Mr. Jolly has been away, he wasn't sure if the police had caught up with the bicycle wheel thief. When he returns, he said, he'll have to spend about $800 replacing the stolen wheels and other parts. As for the Bloomingdale's swim trunks he exchanged that night, he said they worked out perfectly for his tropical getaway, though he didn't recall the designer. "I actually don't remember the brand at all," he said. "Sorry."