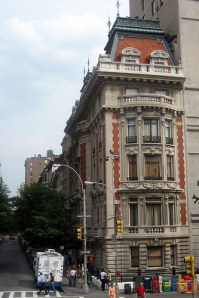 After days of speculation about the buyer of the Duke-Semans mansion—rumors abounded that the new homeowner was a wealthy Russian—the Wall Street Journal breaks the news: developer Tamir Sapir has sold his Fifth Avenue mansion across from the Met to none other than Carlos Slim, Mexican telecom giant, New York Times investor, modest New York office landlord, and the world's wealthiest individual (according to Forbes). The price: $44 million.
Here are some deets on Mr. Slim's new digs, care of the Journal:
The townhouse, at 1009 Fifth Avenue, is 27-feet wide and said to be the only private mansion left on Fifth Avenue, after most were knocked down when a wave of apartment towers went up in the 1920s.

The 1901 house, known as the Duke-Semans mansion, was owned by descendants of the original owner, tobacco magnate Benjamin N. Duke, until 2006.
Read the whole article here.