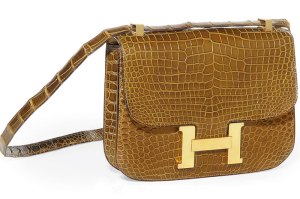 In 1956, the actress Grace Kelly-and Princess of Monaco-used an Hermès bag to cover the bulge of her pregnancy on the cover of Life magazine. Instantly, the bag became an object of romance and desire for women around the world, and the fashion house renamed and refashioned the bag in honor of the royal superstar.
Ever since, the "Kelly" bag has remained one of the most popular items at Hermès, sometimes with a waiting list, according to the company, particularly for versions made of more exotic materials-such as crocodile, ostrich and lizard skin. Later, the French fashion house added the larger Birkin bag, designed for the British actress and Jane Birkin. According to Hermès lore, in the early '80s, Ms. Birkin was placing her purse in the overhead compartment on a plane traveling across Europe when some of her possessions fell out. She complained out loud, wishing for a bag to be large but still stylish. The adjacent passenger was the chief executive of Hermès, Jean-Louis Dumas, and he complied with a purse in her name.
On Wednesday, July 14, Christie's will auction off, in London, 78 Hermès bags, including 36 Kellys and 27 Birkins (they were consigned by various different sellers). The auction-online bidding is available, Christie's notes-also includes the lesser-known "Constance" bag. While sometimes carried by Jacqueline Kennedy Onassis, it was never renamed the "Jackie."
Pat Frost, head of the Textiles Department for Christie's in London, said Hermès doesn't need to rely on celebrities to bolster its reputation. Each bag, she said, is the result of considerable craftsmanship-diagonal stitching, perfectly aligned locks and metalware and feet cast in brass.
Time has proven there's an established auction market for vintage Hermès. And more unusual colors, such as vermillion and violet, fetch higher prices. The most expensive lot to go on the block in London, a violet ostrich Birkin, is estimated at £30,000 to £32,000, or $45,480 to $48,512. (A new Birkin would be about $8,800 at the store on Madison Avenue.)
In the past, people have paid even more. In 2005, William Doyle Galleries fetched $64,800 for a Birkin.