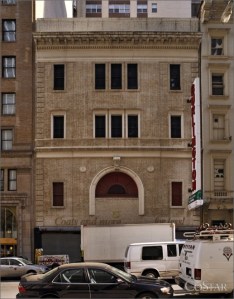 Let the shit-show begin. The city has scheduled hearings for a controversial proposed mosque near ground zero at Hunter College on July 13. The Landmarks Preservation Commission—which must approve the demolition of an existing building at 45 Park Place to make way for the 13-story Cordoba House, a mosque and Muslim community center that's intended to foster interdenominational understanding—has scheduled the hearing for 2 p.m. at Hunter College, in a room that can accomodate up to 300 people. The Commission's on-site hall can fit up to 60.
In other words, the Commission is expecting a large, and angry, crowd. The city has good reason.
On June 6, more than 1,000 people protested the mosque planned for a site two blocks from ground zero bearing signs reading, "No 9/11 Mega Mosque." The movement against the mosque is being stoked by Pamela Geller, of the group Stop Islamization of America. Ms. Geller was also active in opposing the creation of the city's first Arabic language charter school in Brooklyn.
The opposition to the community center—described by its creators as akin to the 92nd Street Y—is unnervingly similar to the vitriol that's greeted plans for new mosques in Sheepshead Bay and Staten Island, and is reminiscent of the anti-Muslim fervor following 9-11.
A Quinnipiac University poll released today revealed that 52 percent of voters in the city don't believe the mosque should be built near ground zero.
drubinstein@observer.com