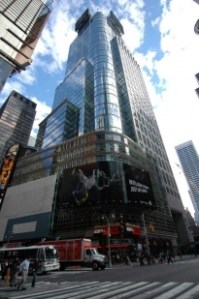 Once again, up is the new up!
Conde Nast's monthly books are up 7 percent in ad pages in the all-important month of September versus last year's rather disastrous September performance. Most magazines showed growth or remained flat, and only three went down (and one of those magazines, Brides, dropped partly because of a chagnes in the publishing schedule).
"We're doing quite well, thank you very much," said Lou Cona, the executive vice president at the Conde Nast Media Group, sounding quite like Chuck Townsend.
Mr. Cona was speaking about revenue, which he said is of more concern to the company than ad page increases (it's a distinction with a slight difference!). Nevertheless, the 7 percent gain means Conde Nast only slightly rebounded from the industry's rock-bottom performance last year, so Mr. Cona was careful not to be too effusive when praising this year's results.
"Given the volatility of the market, we are very pleased with the performance," he said.
Mention of "volatile markets" roughly transles to: It's still a little rough out there, but it's definitely better than last year.
Glamour was the big winner, up 57.3 percent in ad pages. Meanwhile Vogue, which slipped 36 percent last year, rebounded this year with an impressive 24 percent gain under the leadership of rookie Vogue publisher Susan Plagemann.
"Honestly, I set a goal to be up 100 pages, and we hit it," she said, with the magazine picking up 103 extra pages for a total of 532 ad pages. "And I felt that was an ambitious goal and I felt that it was a goal within sight."
"We feel great, we feel really great," she continued, praising her "A++ staff." Vogue, thus far, is up 16 percent for the year.
W, under new editor Stefano Tonchi, went up more than 30 percent.
Meanwhile, some troubling news: Though Bill Wackermann is very happy with Glamour's results, it appears that Details is still struggling under his leadership. Details was down 23 percent in September, which represents the biggest tumble for a Conde Nast magazine in September. Last September, ad pages went down 34 percent and fell another 4.8 percent in the second quarter this year. Conde Nast made a calculated decision to keep Details alive this year, and you have to wonder when Si Newhouse and Chuck Townsend will decide to take another look at the magazine.
Here are the September results:
Architectural Digest: + 5.6 percent

Allure: + 1.4 percent

Bon Appetit: + 34.6 percent

Brides: – 21.8 percent

Traveler: + 0.3 percent

Details: – 23.3 percent

Golf Digest: + 0.2 percent

Glamour: + 57.3 percent

GQ: + 2.9 percent

Lucky: – 10.9 percent

Self: + 14.4 percent

Teen Vogue: + 4.5 percent

Vanity Fair: + 6.8 percent

Vogue: + 24.1 percent

W: + 31.3 percent

Wired: + 28.2 percent