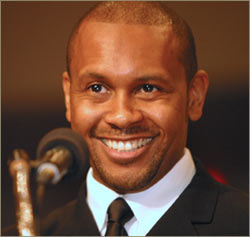 Former Real World star turned hip-hop author Kevin Powell held the first in what his campaign says will be a weekly conference call with reporters in his campaign against Congressman Ed Towns.
There were three media outlets on the conference call: The Politicker, the Village Voice, and something called Brooklynbodega.com.
Powell was blunt about the difference between Towns and a would-be-Congressman Powell.
"I'm actually going to show up to work on a consistent basis."
Powell's campaign said the weekly conference call–something of a novel campaign approach–was conceived so that Powell could show that he is accessible (in pointed contrast, they say, to Towns) and in order to manage what they describe as a deluge of press inquiries.
Powell ran against Towns in 2006 but dropped out to help with Katrina relief. He tried again in 2008, losing 67% to 33%, in a race that attracted loads of attention.
In the conference call, he talked about the number of primary challengers that the New York City Congressional delegation has received: Reshma Saujani in Carolyn Maloney's district, Jonathan Tasini and Vince Morgan in Charlie Rangel's.
"I think it's incredible that you have all of these 20, 30, early 40-somethings running for office," he said. "People are realizing it's no longer acceptable for people to stay in office for 20, 30 years and not be challenged… You are supposed to be held accountable."
He added, "Towns is 76 years old. Rangel is about to 80. Twenty-nine years for Mr. Towns. Forty years for Mr. Rangel. How much longer do they expect to be in office?"
Powell also said that he did not think his previous runs would hinder his chances, pointing to the example of local Assemblyman Hakeem Jeffries and Newark mayor Cory Booker, both of whom lost before before eventually winning their seats.
"Going against entrenched incumbents usually takes two or three races," he said, adding "It's not something you can juset go into and expect to win your first time out."