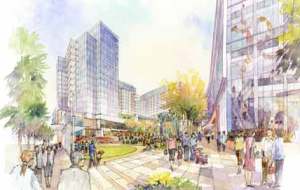 Crain's reports that the City Council's zoning subcommittee voted to approve the planned Flushing Commons mixed-used development in Queens. The project, with 600 apartments and 400,000 square feet of commercial space, is supported by local councilmember Peter Koo and opposed by a group of local businesses (who hired anti-big-development lobbyist Richard Lipsky, who wrote a post on it here). The opponents apparently managed to eek out some concessions by the end of the negotiations.
From Crain's:
A few changes were implemented in the plan, including an increase in small business assistance and a cap on rates for parking, but the details of those plans were not officially released. While the changes were designed to mitigate the impact of Flushing Commons on the community and local merchants, not everyone has been won over.

…

"What our next steps are is unclear," said Mr. Lipsky, adding that local businesses are also concerned that the three-year construction phase will create chaos, and the project's mass which will create gridlock. "We haven't had a chance to evaluate it, but from initial talks dissatisfaction still remains," he said.
The full City Council follows the lead of the subcommittee, and final passage of the rezoning is expected Thursday.