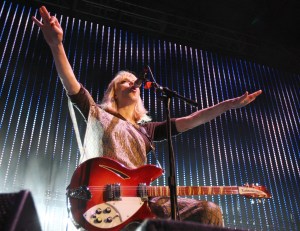 Frances Bean Cobain, the 17-year-old daughter of rockers Courtney Love and Kurt Cobain, sold out her first solo exhibition at L.A.'s La Luz de Jesus Gallery, which runs from July 2 through August 1. The ten drawings feature distorted faces, bulbous nudes, and cryptic, graffiti-style messages like, "Treat me like your mother or I'll eat the sun." But how does her own mother feel about her daughter's emerging artistic career?
Ms. Love has taken to Twitter to offer her congratulations. The Hole singer lost custody of Ms. Cobain in 2009 to Mr. Cobain's mother and younger sister and is now living in New York, across the country from her daughter. Referring to Ms. Cobain by the pseudonym she adopted for the show, "Fiddle Tim," she commends her for choosing "a skater gallery" and then offers some motherly college advice, made slightly heart-rending by the impersonal medium. "I know youre superior to your parents in intellect and in discipline of said intellect, so let me rephrase, how to discuss your education?" Ms. Love tweeted.
After noting that she'd picked up "some really great college porn" (in the form of brochures, we're sure), Ms. Love offers her own opinions of the northeast college circuit: "Bards fine, Browns great, I was thinking about Cornell after someone told me that there's a program for people who are seriously TOO SMART."
Love has piqued our curiosity: what is this TOO SMART Cornell program of which she speaks?