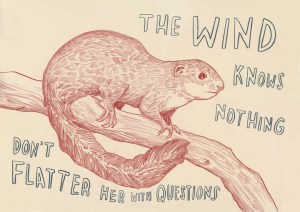 Now that he's no longer speaking constantly on behalf of print media, Dave Eggers has some free time to open his first solo art show.
"It Is Right to Draw Their Fur" will be hanging at Electric Works in San Francisco from July 16 through August 14. More than 100 of Eggers' drawings will cover "nearly every square inch of wall space" with "an ongoing cast of fur-, feather-, and scale-bearing creatures."
According to the gallery's artist biography:
Dave Eggers studied painting and art history at the University of Illinois before realizing he probably wasn't good enough to live as an artist. After college he worked as an illustrator, cartoonist and designer, before again realizing he wasn't good enough at these things to continue doing them full-time.
We are glad that Eggers and James Franco seem to be in cahoots, because in their multi-faceted splendor, they are spirit brothers.