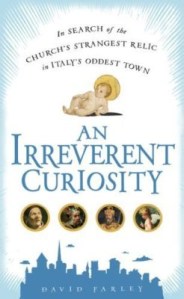 Salt, rats, and potatoes have all served as fixations for authors trying to capitalize on the micro-history trend. The logical next step, of course, was Jesus' penis.
In 2006, David Farley moved to Italy to embark on an Indiana Jones-cum-Malcolm Gladwell project, researching the complex history of the holy foreskin. The hardcover account of his journey, titled An Irreverent Curiosity, was published by Penguin last year. This week Time Out New York interviewed Mr. Farley in honor of the book's paperback release.
In addition to provoking some blasphemous giggling at his mention of a "huge sack" on Rome in 1527, Mr. Farley divulged this theory as to why super-focused topics appeal to non-fiction writers:
I think finding a certain subject in history that is relatively unknown is really interesting to most people. And I think that's one reason why there's been a movement in the last ten or 15 years for these micro-histories. Maybe it's Mark Kurlansky's fault. … My goal is to write history in a way that makes it kind of enjoyable and intriguing at the same time.
We wonder what Katy Perry would think.