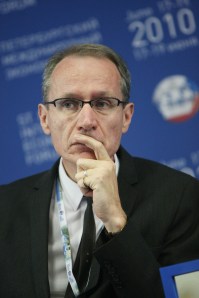 Who will grab the reins of Robert Thomson's glossy, WSJ.? Memo Pad has a short list of names to replace editor Tina Gaudoin, who will resign from her post after closing the September/October issue. She is moving to Europe to be closer to her husband and work on fashion coverage for the Journal.
The short list of replacements, according to WWD:
Among those said to be in the running are Marie Claire editor in chief Joanna Coles, as well as Jay Fielden, former editor of Men's Vogue, Horacio Silva, online director of T: The New York Times Style Magazine, Julie L. Belcove, the former deputy editor of W and Deborah Needleman, the former Domino editor.
The glossy also lost its executive editor Owen Philips earlier this week to The Hollywood Reporter, but the editor will likely pick his or her own number two.
Ms. Needleman has to be the favorite, and she is probably the biggest name. She is already at work on a weekend lifestyle section for the Journal, and Mr. Thomson would like to see the magazine pursue female readers more aggressively, according to WWD sources. There is also talk of increasing the magazine's frequency. Given her experience, Ms. Needleman would be more than comfortable leading both of these charges.
In Sarah Ellison's War at the Wall Street Journal, Rupert Murdoch spends one of his first days at the Journal's office looking at mock-ups for the magazine. He said that he got the idea to add a weekend fashion magazine after watching his wife Wendi page through similar magazines just to look at the ads.
"We wanted to produce more than a catalog of things to buy," Ms. Gaudoin told the audience at the launch of the fall of 2008. "We wanted to respect the audience's respect for money."
Ms. Needleman said that she wanted to marry irreverence and utility in the new lifestyle weekend section. "It needs to be a pleasure to read and to look at, but you really have to get something out of it," she told Ad Age last month.
A spokesperson for the Journal told the Observer earlier this week that there was no timetable yet for replacing Ms. Gaudoin.