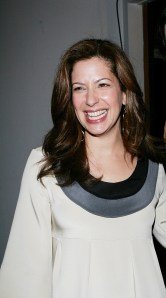 Robert Thomson announced this morning that he has tapped former Domino editor Deborah Needleman, who has lately been working on a weekend lifestlye section for his Wall Street Journal, to run WSJ., the Journal's glossy.
Ms. Needleman replaces Tina Gaudoin, who ran WSJ. since it launched in 2008 until this summer, when she stepped down to return to Europe to work on fashion coverage for the Journal.
Here's the release:
NEW YORK, July 27, 2010 (GLOBE NEWSWIRE) — The Wall Street Journal has named Deborah Needleman to a newly created role in which she will serve as editor in chief of WSJ., the Journal's glossy lifestyle magazine, and editor of a new weekly Saturday lifestyle section in development for the Journal for the fall.

Effective September 1, Ms. Needleman, founding editor of domino magazine for Condé Nast, will oversee all editorial content in the magazine while also managing the new lifestyle section, for which she has been serving as a consultant. Ms. Needleman will report to Mike Miller, senior deputy managing editor of the Journal.

"Deborah has shown in the originality, professionalism and energy of her development work in recent months that she is the perfect person to lead the next phase of the magazine's expansion and to create a Saturday section unique in both character and content," said Robert Thomson, editor in chief of Dow Jones & Company and managing editor of The Wall Street Journal.

"I am thrilled to be taking on this role at the Journal," said Ms. Needleman. "There is great momentum and energy at the paper, and a mandate for innovation, and I am excited to be a part of it."

WSJ. magazine launched in September 2008 and provides the Journal's notable take on fashion, art, travel, philanthropy, architecture, food and more, and offers unparalleled access to industry leaders and newsmakers. WSJ. appears globally six times per year as part of the Journal's Weekend Edition and is distributed to a U.S. circulation of 1.5 million, with an additional circulation of 160,000 outside the U.S. in copies of The Wall Street Journal Europe and The Wall Street Journal Asia.

The next issue of WSJ. magazine is scheduled to appear on Saturday, September 11, with issues to follow in October and December. Content from WSJ. is available online via WSJ.com/magazine.