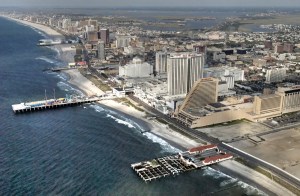 Atlantic City Mayor Lorenzo Langford first heard about a state overhaul of his town in the newspaper, but at this point refuses to nurse bitterness over the perceived slight from Gov. Chris Christie, who also slammed local leadership of the city in his remarks to reporters up in the Meadowlands yesterday.
"I'm not mad at the governor, as much as people want me to be mad," said Langford. "I didn't hear his remarks in person. But a lot of what the governor said happens to be the truth. There has been inefficiency and corruption here. That is an historic fact. I don't take it personally. I didn't hear him say anything about me.
"The State of New Jersey has a history of corruption – probably one of the most corrupt states in the union. Corruption. Fiscal mismanagement. I don't lay that ineptness and corruption at the feet of the governor."
There's too much at stake, he says.
Moreover, Langford said he agrees with the main recommendation in the governor's commission report, which is the augmentation of Atlantic City as a gaming destination without the interference of other competing gaming venues in the state.
His exclusion from the ceremony of the governor's report may rankle Langford allies, and the mayor admitted he thought enough of it to mention it to a Christie aide.
"I learned about the coming report in a news article a week ago," Langford told PolitickerNJ.com. "The article said 'next week Chris Christie was going to be in Atlantic City. I was not told directly. I talked to a staffer, who took responsibility for that. Said it was a mistake. It was a mistake, don't let it happen again."
Despite the still unclear state-city partnership dimensions of the report, Langford said he welcomed the main tenants of the governor's commission recommendation.
"When the governor says he's going to make an effort to make sure CRDAs (Casino Reinvestment Development Authority) dollars stay in Atlantic City, that's easy for me to get my arms around," said Langford.
Along with political nemesis state Sen. Jim Whelan (D-Atlantic City), Langford is one of two recent Atlantic City mayors who hasn't landed either behind bars or in disgrace.
"I'm not one of the ones who went to jail," said the mayor.
"A lot of people locally understand what happened," he added, when asked about his and former Council President Speedy Marsh's joint lawsuit against the city, a $2.3 million action, which a court settled in their favor finally for $850,000. Langford said his share amounted to $193,000.
Armed with statistics that show a decline in the city's crime even as casino revenue has also shot down dismally in the last three years, the mayor argued that the city needs a public relations makeover to entice gaming and recreation buffs.
"Out problems are not the result of inefficiency of government," Langford said. "We are up against a downturn in the national economy, competition in the gaming industry from other states, and again, the perception that Atlantic City is not as safe as it ought to be."
On the cusp of a legislative election year, Langford said he's not prepared to endorse fellow Democrat Whelan.
Asked if it was safe to say he wouldn't endorse a Republican, he added, "That's not so safe to say. I'm keeping my options open."