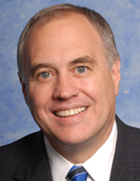 Tom DiNapoli called in from sunny Buffalo to press his support for the financial regulatory reform bill now making its final laps through Congress.
"We need financial services to be profitable again, as it seems to be," he said. "But based on a model that is sustainable and secure."
He noted that as of now three G.O.P. Senators–Olympia Snowe and Susan Collins of Maine, and Scott Brown of Massachusetts–are all yes votes on the bill, and that Harry Wilson, his G.O.P opponent, has come out against it.
"My opponent has been parroting what we have been hearing from the right wing of the Republican Party," he said. "It's time to cross party lines and really show leadership."
DiNapoli then took another dig at the man his campaign has taken to calling, "Hedge Fund Harry."
"Keep in mind his pedigree and where he came from. Hedge funds have certainly been one of the less regulated aspects of the financial sector and this bill would regulate them."