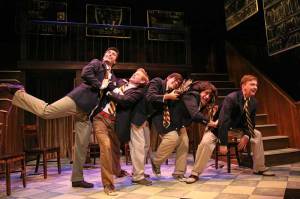 Summer is a strange season for New York theater. Along with heat and humidity-oh, the humidity!-it brings the sublime pleasures of the Delacorte Theater and its serious, celebrity-laden Shakespeare in the Park productions. It also brings the festivals-collections of short runs of short plays by earnest or at least earnestly ironic young creators, who hope to have the next Urinetown on their hands, or at least the next [title of show]. And someplace between those poles, there's the little summer plays. Little summer plays have full productions, but they're far from Serious Theater. They're frothy, they're most often musicals, they rarely run more than 90 minutes and they're diverting. Sometimes they're even pretty good. Two prime examples opened last week: Falling for Eve, at the York Theatre Company, and With Glee, produced by the Prospect Theater Company at Theatre Row. One-Falling for Eve-is by a collection of old pros; the other-With Glee-is the solo effort of a recent N.Y.U. musical-theater grad. Neither is revelatory; both are entertaining. And the one by the kid is better.
Both tell familiar stories. Falling for Eve (with a book by Joe DiPietro, who recently and inexplicably won two Tonys for his desultory Memphis; music by Bret Simmons, who has a list of movie and TV credits; and lyrics by David Howard, who wrote both the film Galaxy Quest and the play Adam Alone, upon which this musical is based) is the Creation, but with some twists.
They're frothy, they're most often musicals, they rarely run more than 90 minutes and they're diverting. Sometimes they're even pretty good.
Here, God is alternately portrayed by a white man and a black woman, and Eve eats the apple but Adam doesn't, separating the two when only Eve is evicted from Eden. She discovers pain and heartbreak and all that other human stuff, but she also discovers that the world is beautiful and ever-changing. Adam misses Eve, too, and he's bored: prelapsarian ennui. When God-a bit of a yenta, who realizes humankind will never take off if his leading men and leading lady remain apart-allows Eve back into Eden, she realizes she misses the real world and Adam knows he can't be without her. Together, they chose to fall.
It's a nice point-that paradise is the real world, not Eden, with free will and messy emotions and oceans and mountains. The singing is excellent, and some of the songs have power, like "Apple, Apple, Apple, Apple," an ode to temptation, and "Good Things Are A-Comin'," God's patter song of possibility. But, still, the production feels less utopian than dutiful. Large chunks of the short show seem perfunctory, and, as directed by Larry Raben, it veers into sitcom territory much too often. That weakness isn't helped by Jose Llana's incessantly goofy-neighbor vibe as Adam. "How you doing," he growls, Joey Tribbiani-style, on meeting Eve. We've been better, thanks.
THE PLOT IN With Glee (with book, music and lyrics by John Gregor) lacks even the twists of Falling for Eve. This one is just the standard cliché: Diverse group of stereotypes-the lonely kid, the psycho, the rich kid, the poor kid and the theater kid, as they're helpfully identified in the script-are sent off to Westbrook Academy, the boarding school, where they first hate each other and the school but ultimately, after some adventures and ordeals, bond and discover happiness. This could be a recipe for yet another trite learning-to-love-yourself story, and there are certainly echoes here of shows like 25th Annual Putnam County Spelling Bee. But, like in Spelling Bee, With Glee's self-awareness, charm and tremendous wit make the predictable story a goofy pleasure to watch unfold. The cast is fantastic, with the boys all pitch-perfect, and Greg Horton, who plays the various adult men, slipping effortlessly and amusingly from WASP-y dad to befuddled teacher to pompous headmaster. Director Igor Goldin does great work with the ensemble, creating a few knockout production numbers. (Antoinette DiPietropolo choreographed.) But Mr. Gregor's songs are what makes it all work. The opening number, "Bad Kid School," efficiently sets up the characters and premise in a tuneful few minutes. "Normal" sweetly and smartly sets out the boy's dream-not to be outsiders anymore. "If You Want to Be a Vandenberg" gives Mr. Horton, in WASP-y dad mode (and Mr. Gregor, as lyricist), a very funny chance to show off some excellent wordplay. Westbrook's motto, displayed on a crest on the upstage wall, is "The Best Is Yet to Be." On that theory, I can't wait to see more of Mr. Gregor's songs, in something bigger than a little summer play.
editorial@observer.com