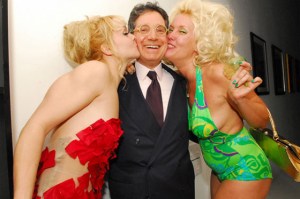 Those of us who wished that Jeffrey Deitch, the art world's LeBron James in his cruel defection from the city that made him, would fade from the canvas upon moving away, apparently have another thing coming. First there was James Franco's globally buzzy performance-slash-publicity-stunt, and now another apparent L.A. success.
Deitch's posthumous show of Dennis Hopper's photographs and paintings has opened at Los Angeles Museum of Contemporary Art and it's "hit the ground with more pre-awareness than a teen vampire sequel," writes Artnet, in an early rave.
In a near-record use of the word "star" in a sentence, Tiff Chalmers writes that it's "a star-powered art show by an art-star and star-artist[Hopper], curated by an artist-director [Julian Schnabel], presided over by the new art-star-Svengali of a revivifying art institution [Deitch] whose hip wing is named for a star-maker [David Geffen], in a town full of artists and stars." [George Clooney, et. al.] The show is "visionary and charming," Chalmers concludes.
New Yorkers can take some comfort in the fact that they could have caught Tony Shafrazi's terrific Hopper show last year.
The museum prepares for all the flak that may come it's way from naysayers who would question treating the actor like an artist by smartly titling the show "Double Standard: Dennis Hopper."