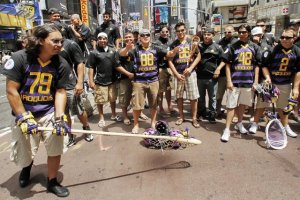 A number of New York elected officials are rallying on behalf of the Iroquois Lacrosse Team, currently held up at JFK and waiting to fly out to the 2010 World Lacrosse Championships in Manchester, England.
Sen. Kirsten Gillibrand wrote a letter to Secretary of State Hillary Clinton (the woman she replaced in the Senate) and Homeland Security Head Janet Napolitano, writing:
While I am sensitive to the national security protections afforded by U.S. passport process, and believe that long term policy considerations need to be duly weighed, I am concerned that New York and other U.S residents will be unable to travel and proudly represent their nations at a sporting event originating from their traditions unless a timely a timely solution can be found.
And Rep. Louise Slaughter's office said that the Congresswoman spoke with Secretary of State Hillary Clinton on the matter earlier today.
And here is Dan Maffei, getting all cinematic on the floor of the House: