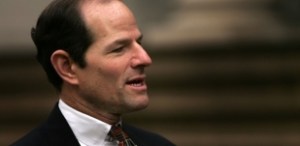 CNN is paying Eliot Spitzer something in the ballpark of $500,000 to co-host the 8 p.m. hour, according to Page Six. Kathleen Parker won't make much more than that.
For comparison, Larry King's most recent contract for 9 p.m. was around $7 million, and the network will pay him $3 million now just to work on specials. But it's not like Mr. Spitzer needs the money; his father did extremely well in the real estate business.
We're reminded of the article in The Times earlier this week about Mayor Bloomberg's nepotistic interns (Luke Russert, for one). The article described Mr. Bloomberg joking around with his interns at a Gracie Mansion barbecue that he only made $1 more than them. Not getting paid that much is hilarious when you're rich.