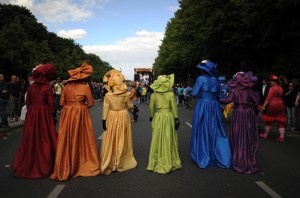 Magazines like Condé Nast Brides or Martha Stewart Weddings are not as helpful for gay and lesbian couples — but they are kind-of, sort-of trying, according to The New York Times.
Martha Stewart Weddings showed two men kissing and stomping on a glass in the winter of 2010, and Conde Nast Brides ran its first ever feature about a same-sex wedding earlier this month. One of the brides was the magazine's photo editor. Recently the "Today" show on NBC welcomed same-sex couples to compete in its annual wedding contest.
Today The Times profiles one recently married Lesbian couple who have launched a web magazine, Equally Wed, that is supposed to fill in some of the whitespace left by these magazines around the topic of same-sex weddings.
Kirsten and Maria Palladino wanted to address questions they felt like were left out of coverage by other magazines, such as "Should Kirsten and Maria both walk down the aisle, or was it O.K. for Maria, who sees herself as more masculine, to wait for her bride?" Homemade web magazine launches — especially those based in gay enclaves south of Atlanta — sounds great. We wonder, though, is there even a right answer for this question, besides "do whatever you want"?