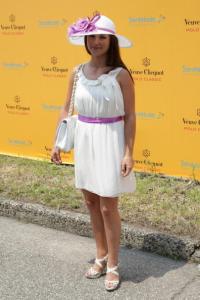 When Reshma Saujani's campaign announced its $394,000 haul for the latest fundraising quarter, it made a point to stress that 68 percent of its money came from small donors who gave $250 or less.
But a quick look through her filing–which is now posted on the FEC website–shows that she still has some very big-name backers.
Among them is Mayor Bloomberg's daughter, Emma, who gave $2,400 toward the primary. (The mayor's girlfriend Diana Taylor has been an outspoken supporter for some time now, and contributed another $1,400 this quarter.)
Emma doesn't appear to be a frequent political donor–her only federal contributions listed on the FEC website are to George Bush's re-election and erstwhile Senate hopeful Alan Khazai of Massachusetss–both of whom were endorsed by her father.
Also on the list is Annette de la Renta (listed as "Anne"), who chipped in $2,400.
Judith Dimon, wife of JP Morgan CEO Jamie Dimon, gave $1,400 this quarter, after having given $1,000 last quarter. (Saujani's campaign–which has been trying to beat back the notion she's cozy with Wall Street–stressed that only 25 percent of her donors are affiliated with the banking industry, though, as Salon pointed out, it didn't indicate what percentage of the money came from financial services.)
Other notable donors:
—H. Dale Hemmerdinger, the former head of the MTA gave $1,000.
—Literary agent Lynn Nesbit gave $2,400.
—Personal Democracy Forum founder Andrew Rasiej gave $500.
—And, the man with perhaps the most famous name of them all, Theodore Roosevelt IV, gave $300.