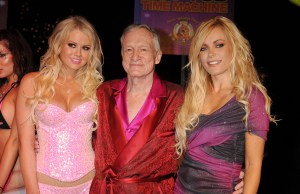 Following Hugh Hefner's bid to take Playboy back into private control this week, Penthouse owner Marc Bell has made a counter bid of $210 million on the brand, according to The Wrap. Mr. Bell's bid is worth nearly $25 million more than the amount Mr. Hefner put forward, $5.50 per share.
Mr. Hefner is not worried, however. He wrote on Twitter earlier this week, "Penthouse really isn't in the picture. I'm buying, not selling." He added later "Penthouse is just looking for publicity. They're not in the picture." Is Marc Bell the Mort Zuckerman of porn?

This morning Mr. Hefner shared that he would spend the evening playing rummy with "the guys" and cuddling with Crystal Harris, one of his girlfriends. In other words, he's not worried.
Mr. Bell said that if he took over the brand, Mr. Hefner "would be entitled to reside in the Playboy Mansion." No word on whether Mr. Hefner would also be "entiteld" to keep wearing his smoking jacket.