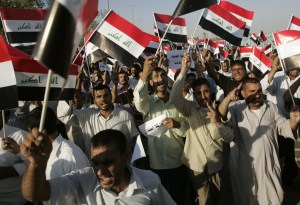 In the Washington Post today, former deputy metro editor Rem Rieder reviews a new book from former Post sports columnist Dave Kindred called Morning Miracle: Inside the Washington Post.
The review underscores some of the reasons that foreign correspondent Anthony Shadid, now of The New York Times, decided to leave the Post.
In another chapter, Kindred introduces Anthony Shadid, a gifted foreign correspondent with a penchant for telling the stories of ordinary people affected by momentous events. Shadid, who was shot while covering the Israeli-Palestinian conflict for the Boston Globe in 2002, went on to report from Iraq for The Post. Despite the costs of his commitment — the physical danger, the toll on his personal life — Shadid talked of why he did what he did: "This will sound cheesy, but it is an overwhelming experience when you're defined by a story to that degree. And that's when journalism can really be great, when that's who you are, you're here to report that story."


Like so many love stories, though, this one is fraught with complications, and the Shadid saga underscores that fact. In the book's epilogue, Kindred reports that the correspondent has defected from The Post to The New York Times. "I adore The Post and [Washington Post Co. Chairman] Don Graham is still an inspiration to me," Shadid says. "But they're going a different direction in foreign, a lot more about policy, not going head to head on daily stories."
Mr. Kindred also hints at one large reason why former managing editor Steve Coll decided to leave the paper. Mr. Rieder writes:

Years later, after The Post had amassed a large national and international audience, almost by accident, thanks to the Internet, a task force headed by then-Managing Editor Steve Coll urged the company in 2003 to adopt "a somewhat more aggressive national and global Web strategy." But Graham rejected the idea on the grounds that the paper's emphasis was and should be regional.
Mr. Kindred notes that Robert G. Kaiser, one of Mr. Coll's predecessors, also tried to usher the paper forward to the web in 1992 after a trip to Japan, urging the paper to launch an online edition and plunge into the online classifieds market.