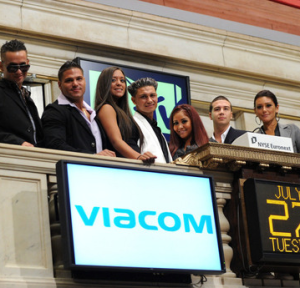 This morning, following the impeccable Viacom-hawking work of Betty White, the cast of MTV's The Jersey Shore rang the New York Stock Exchange's opening bell. The bad news is that they were only allowed to stand and smile, but not allowed to say anything to the exchange.
But the good news is that the appearance of Snooki, The Situation and all their pals inspired those gloriously astute market masterminds at the Village Voice to craft a phenomenon named The Guido Effect. Picking one stock each from the categories of Gym, Tan, and Laundry, the Voice saw a post-bell boost for the stocks of Nautilus Fitness, Energizer (which owns Playtex, which makes Banana Boat and Hawaiian Tropic) and Proctor & Gamble (the makers of Tide and Gain soap, plus, of course, Venus shaving products).
When their item and its Guido Effect theory were first published an hour ago, Nautilus was up only .05 points. But, as of this writing, its daily rise has doubled! The stock price now stands at a proud 1.88.