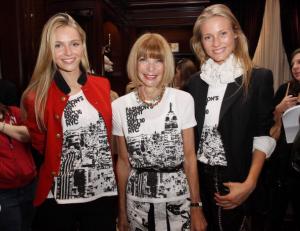 Fashion's Night Out, noted charity event in support of buying things, returns for its second go-round this fall. The excitement will include not one but two major television appearances, so surely this September 10th will be even grander than the last. But what will this year's shopping festivities themselves involve? Fashionista has looked into this.
At Barney's, the Olsen twins, Proenza Schouler and Simon Doonan will judge a karaoke contest, awarding the winner a purse and leather leggings. Also there will be a ping pong tournament. At Bergdorf Goodman, visitors can enjoy a cookout with the Fire Department, or perhaps an Isaac Mizrahi cabaret. And Open Ceremony will again be having the party for the oppressively cool.
We can only assume that the greatest night ever will once more involve hors d'oeuvres.