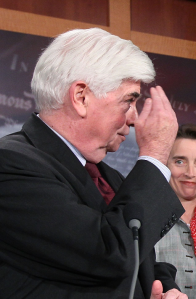 The Senate needed 60 votes to end debate on the final version of the enormously widespread financial reform bill. With three Republicans, but without Wisconsin Democrat Russ Feingold, who said it wasn't strict enough, the bill got exactly that this morning: The vote was 60 to 38.
Final Senate approval will come later this afternoon (see update), and a bill signing ceremony could be next week. "We won't know the full results of what we have done until the very institutions we have created, the regulations we have suggested and provided for are actually tested," said Connecticut's Christopher Dodd, the bill's main writer. "We can't legislate wisdom or passion. We can't legislate competency. All we can do is create the structures and hope that good people will be appointed who will attract other good people—people who will make careers and listen and see to it that never again do we go through what we have gone through."
The bill won't break up the nation's enormous banks, and it isn't entirely how strict it will be. But its hundreds of new rules will redefine how Wall Street makes money from derivatives, credit cards, and trading, and it will create a new consumer protection agency.
"It's just unconscionable," the Arizona Republican Jon Kyl said just now from the Senate floor.
Update: And, as expected, it passed.