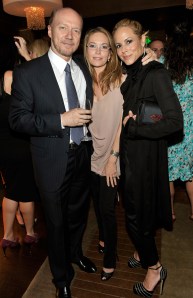 Paul Haggis wrote the screenplay of Million Dollar Baby, Clint Eastwood's Hilary Swank-studded gem of a film that won the Oscar for Best Picture in 2004. However, according to city records, the Crash director has laid down more than a million for his new Soho abode at 388 West Broadway, coughing up the full asking price of $3.95 million for the "expansive" two-bedroom affair. Mr. Haggis, who is married to actress Deborah Rennard, though she is not listed on the deed, purchased the loftlike apartment from Blackstone CFO Laurence Tosi. It is unclear where Mr. Tosi will be moving, but it appears the financier has no reason to downsize; according to Forbes, the 42-year-old made upward of $4.5 million in 2009 alone.
Listed by Stribling's Michael Chapman, the apartment features an "immense" 31-by-30-foot living room with a "baronial fireplace," mahogany framed windows and 11-foot-high ceilings supported by original columns and restored timber beams. The 700-square-foot master bedroom suite "defies all expectations" with the bedroom measuring 15 by 25 feet and a master bath to induce any limestone lover to crash indefinitely. Luxuries of the limestone-tiled bathroom include an "oversized" shower with a teak bench seat and a 12-inch rainforest shower head, bidet, towel warmer, double sinks and "extra deep" medicine cabinets. And, of course, there is also the 6-foot Waterworks soaking tub–convenient for Mr. Haggis, who measures almost exactly 6 feet.
Because he's based in Santa Monica, Calif., Mr. Haggis' Manhattan apartment purchase leads the logical reporter to presume this perfectly sized soaking tub will act as a glorified pied-à-terre for the director, who also owns a nearby penthouse loft at 169 Mercer Street bought in 2006 by The Valley of Elah director for $2.9 million.
Mr. Haggis reached household name status in 2006 after Crash's much-disputed Best Picture Oscar nod; however, the Hollywood jack of all trades is less well known as the writer of the recent 007 blockbusters Casino Royale and Quantum of Solace. In the former, sultry Eva Green purrs in her Jane Birken–brogue: "There are dinner jackets and dinner jackets; this is the latter," before presenting Daniel Craig with a most superlative dinner jacket tailored impeccably to his size.
One could say the same of Mr. Haggis' new apartment. Indeed, there are Soho lofts and Soho lofts; 388 West Broadway is the latter.
cmalle@observer.com