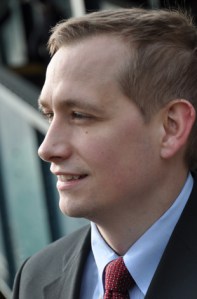 Jeremiah Frei-Pearson, the self-anointed "grassroots" candidate in the race for Assemblyman Mike Gianaris's open seat, announced that he will file 3,300 nominating signatures today. His campaign also says it raised $150,000.
Both numbers are short of "insider" rival and darling to the Greek community, Aravella Simotas. Yesterday, Ms. Simotas' campaign announced that it had raised $185,000 and secured 4,400 signatures.
Both candidates wildly surpassed the requisite 500 signatures needed to hold the Democratic line for Assembly, ensuring a heated primary that promises major activism from the Greek community for Ms. Simotas and the LGBT community for Mr. Frei-Pearson.
Anyone with feet in both groups: avoid talking politics at parties in Astoria for the moment.