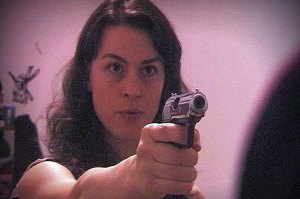 Summer gallery shows used to be filler. Studded with hit-or-miss emerging artists and sometimes curated by neophytes, they used to be meant largely as placeholders till the fall art season-and the real business-heats up.
This summer is different. A handful of Chelsea and Lower East Side galleries have put together some of the more inventive and accessible themed shows in decades: built around books, celebrities or even surf culture.
And, perhaps not surprisingly, they're packed. "I think the TV show Work of Art is having a rippling effect-it's making the art world more popular," said curator Renee Riccardo. When art adviser Todd Levin, of Levin Art Group, opened a show he curated, "I.G.Y.," at Marianne Boesky uptown (118 East 64th Street), he expected "everybody would be at the Hamptons." Instead, he was pinned in one room for most of the event by the crowds packing the inventive exhibition about art at the very beginning of the space age, circa 1959.
The teeming masses aren't necessarily always a good thing, of course. Art events are so popular that hosts are cutting back a bit on the spread. Last week, one of the hottest galleries in Chelsea had an after-opening party with a cash bar. Another European powerhouse, known for lush parties at Madison Avenue restaurants whose names invariably begin with either "Le" or "La," had its opening party in a local tavern. A third gallery served goldfish crackers in plastic cups.
In part, it's a reaction to the economy. Though recent auctions, here and in London, have fared surprisingly well, gallery sales are still slow, many dealers report. So what's a faux-intelligentsia luxury-goods business to do in tough times? Turn populist. Some of the shows this summer are the kind of art-gallery openings you could bring someone to who normally wouldn't be caught dead at an art-gallery opening. So, try just that.
Here's a look at some upcoming or just-opening shows:
The theme: Richard Price's novel Lush Life
The show: The week's biggest, buzziest art opening focuses on Mr. Price's 2008 novel on the uneasy gentrification of the entire Lower East Side. Fittingly, nine LES galleries teamed up for this summer show, each playing a character in the book. Curated by Franklin Evans and Omar Lopez-Chahoud, those galleries are Collette Blanchard, Invisible Exports, Lehmann Maupin, On Stellar Rays, Salon 94, Scaramouche, Sue Scott, Eleven Rivington and Y Gallery. A neighborhoodwide opening party kicks off Thursday, July 8.
The theme: Walt Disney
The show: Curators Adam Cvijanovic and David Humphrey have assembled a biography of Walt Disney in the form of an exhibition at Chelsea's Postmasters Gallery (459 West 19th Street). Artists such as Inka Essenhigh illustrate, in a variety of mediums, major events from his biography in a show called "Defrosted." Already open, it runs through Aug. 6.
The theme: Surfing
The show: Artist Olaf Breuning offers his interpretation of surfing Vikings in "Swell," an exhibition of "surf-themed art produced by city dwellers," organized by Tim Nye and Jacqueline Miro. It opens simultaneously at three Chelsea galleries: Metro Pictures, Nyehaus and Friedrich Petzel. Other artists who've dived include Ashley Bickerton, Robert Longo and Fred Tomaselli.
The theme: Stereotypes
The show: "Irrelevant: Local Emerging Asian Artists Who Don't Make Work About Being Asian." This delightfully eclectic show unites artists who pointedly have virtually nothing in common other than their ethnicity. It's at Arario Gallery (521 West 25th Street) through Aug. 6.
The theme: Edgar Allen Poe's "The Tell-Tale Heart, Part 2"
The show: Works by Tracey Emin, James Ensor and Felix Gonzalez Torres, among others, creepily salute or invoke the macabre story by Poe. Up through Aug. 14 at James Cohan Gallery (533 West 26th Street), and curated by Elyse Goldberg, the show includes a haunting photogra by Dash Snow that, the gallery said, shows "there is a sense of the possibility of violence or love lurking in the shadows."
apeers@observer.com