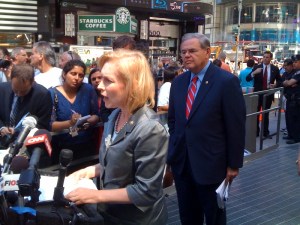 BP CEO Tony Hayward may be stepping down soon, but that won't stop Senators Bob Menendez and Kirsten Gillibrand from trying to haul him before Congress.
At a press conference in Times Square this morning, the two senators announced they'll be holding a hearing into the release of the Lockerbie bomber this Thursday, and told the press they want to hear from Hayward, regardless of whether he's the sitting CEO.
"I understand that Mr. Hayworth may be in the process of negotiating his golden parachute to leave BP but that does not excuse him from the request for his participation," said Menendez, who started the press conference without Gillibrand, who was a little late arriving from Washington. "Should BP choose to avoid this hearing, I don't think it will be taken kindly by the American people."
The two senators were flanked by three family members who lost loved ones in the Lockerbie bombing. Menendez and Gillibrand–along with their colleagues Frank Lautenberg and Chuck Schumer–have been pushing British officials for weeks to conduct a full investigation of the links between BP's oil deals with Libya and the release of Lockerbie bomber, Abdulbaset al-Megrahi. The convicted terrorist was granted a compassionate release by the Scottish government nearly a year ago, when he was diagnosed with three months to live.
The four senators met with UK Prime Minister David Cameron last week, who agreed to conduct a document review, with the possibility of a full investigation to follow.
Menendez conceded that he doesn't have subpoena power to compel the foreign officials, nor BP's Hayward, to come before the commission. He said if the officials decline to participate, he'll seek subpoena power from Senator John Kerry, the chair of the committee.
And, after the conference, he stressed that he wants to hear from Hayward specifically.
"We believe he was in the midst of the negotiations with the Libyans as it relates to this oil deal," Menendez said.