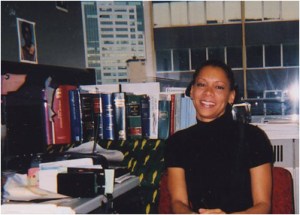 Sen. Kirsten Gillibrand, who has Steve Israel, Carolyn McCarthy, Carolyn Maloney, Harold Ford, Bill Thompson, and Scott Stringer (Am I leaving anybody out? Cincinnatus?) all consider primaries against her only to ultimately be dissuaded, will be receiving a primary challenge from Gail Goode, a deputy borough chief in NYC's Tort Unit.
According to a press release, Goode will turn in over 45,000 signatures at the Board of Elections in Albany tomorrow.
Her website gives a brief rundown on her and her policy positions:
Born in New York, Gail has your best interests at heart. Gail advocates progressive social issues from equal marriage to gun control and affordable health care for all. She believes in increased spending in anti-terrorism security and expansion of the New York transit system.
Goode plowed close to $200,000 of her own money in the campaign just to get on the ballot, according to her campaign. She is expected to report having around $10,000 in the bank when campaign finance reports are released this week.
"If you look at typical campaigns, this doesn't fit," said Gary Tilzer, her campaign manager,. "But even Robert Kennedy and Hillary Clinton had primaries."