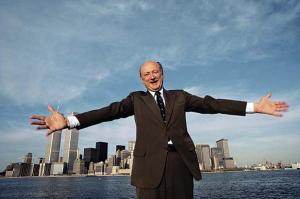 The budget deadline isn't the only date on the calendar being missed in Albany.
A half-dozen legislators missed the deadline to sign on to Mayor Ed Koch's "New York Uprising" pledge, but did so in the last few weeks after Koch sent out a series of press releases labeling them "Enemies of Reform."
"We are busy here. There is a lot of stuff going on," said Buffalo Assemblyman Mark Schroeder, who said he didn't realize he was an "enemy" until a constituent saw an item about it in a New York City daily. "Once I realized there was a deadline I immediately took care of it."
The pledge commits legislators to agree to support nonpartisan redistricting, ethics reform, and a host of transparent budgeting practices. All of those who signed after the deadline said some variation of Schroeder's comments: despite the press attention given to Koch's return to the political arena, they were unaware of the deadline, and in some cases, the pledge itself.
"I was tied up in so many things that I didn't realize when the deadline took place," said state Sen. Eric Adams, who said he missed the cut-off date because he answers every email his office gets sent personally. "When I realized there was a deadline I had my staff go through it and see if it was something I could sign, and it was an easy lift for me."
But Mark Botnick, who is aiding Koch on his quest, said lawmakers were given plenty of warning. On May 24, an email was sent to every legislator's email address, and their personal one if it was known. Near daily reminders were sent along as well with an updated list of who had signed on. On June 29, Koch held a fundraiser, and announced a cut-off date of July 21. The day before then, he said, the group's interns called the offices of every single remaining legislator.
"For any legislator to say they didn't know, that I find troubling," he said. "If legislators are serious about reform, they should sign now. We welcome them."
Legislators can sign anytime up until Election Day and will be taken off Koch's "enemies of reform" list, though they may face weeks of pressure until then.
For their part, the laggards refused to consider their failure to sign a pledge that they agree with by the agreed-upon date as somehow indicative of Albany's inability to hew to a schedule.
"I thought we signed up on time, I really did," said Rochester Assemblyman Joe Morelle. "I'm pretty decisive. I just wanted a chance to look through it."
UPDATE: Morelle checked with his staff, and says that he did in fact have the pledge signed and sent by the deadline. So, uhh, somebody's bad.