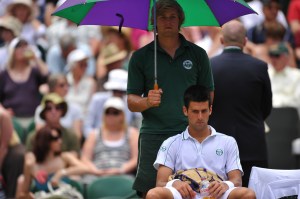 We're still pretty mad at NBC for renouncing the web and putting the Andy Murray-Rafael Nadal Wimbledon men's semifinal on tape delay. But we're still looking forward to Breakfast at Wimbledon, the marketing gimmick created by NBC to get Americans to tune into tennis matches at 9am on Saturday and Sunday.
So we'll leave you with our favorite sports TV theme songs, the opening theme for Breakfast at Wimbledon and the closing theme. Both most certainty date back to the 1970s, and thank God NBC never changed them.
Also: Extra points if you listen to the BBC theme song, which is far more insane than we ever imagined.
Happy Fourth of July everyone!