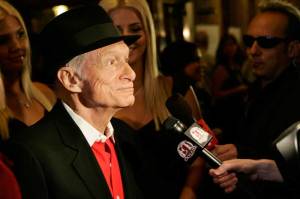 This morning, Hugh Hefner put out a bid to buy all shares of Playboy Enterprises Inc. that he doesn't currently own, an effort to re-privatize his company after 39 years.
Hefner has offered to pay a premium of nearly 40 percent on outstanding shares, a surprising development given that, as he just discussed with Deborah Solomon this weekend, the company's flagship magazine has not done well in the Internet years.
Certainly in Playboy's case they make money by being in other businesses. To begin with, it was the magazine that carried the brand; now the brand carries the magazine.
Though:
We have merchandise that we sell all over, like clothing. We're one of the main men's upscale brands on the mainland of Red China, where the magazine is not yet permitted.
This comes on the heels of news that Playboy will restructure and start a safe-for-work website, which may be indications that the 84-year-old, pajama-clad mogul has a bold new direction for the company. Or maybe he just intends to invest heavily in "Red China."