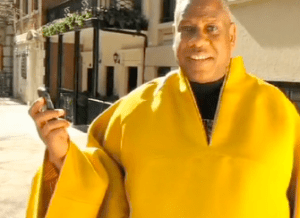 In Greater New York today, the Wall Street Journal's Marshall Heyman writes about the cast of characters featured in Bing advertisements on Taxi TV.
"There's a new way to gauge whether you've, as they say, 'made it' in New York: You're featured in an advertisement for Bing in a taxi cab," Mr. Heyman begins.
Doesn't "making it in New York" feel outdated when we're talking about micro-fame vis-a-vis Taxi TV?
From the Journal:
Some of the people featured in the advertisements include André Leon Talley, of Vogue; Jason Binn, the chief executive of Niche Media; "Sex and the City" star Mario Cantone; Kelly Cutrone, the publicist star of "Kell on Earth;" Sherri Shepherd, co-host of "The View" and Beth Ostrosky Stern, wife of Howard.
There is also Julia Allison, who visits Buttercup Bake Shop in her spot. She told the Journal that she put her intern to work trying to get free cupcakes for life out of the deal. This didn't work out.
Mr. Talley went to the Met. This also didn't work out: