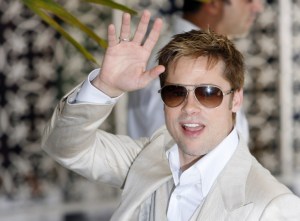 Maybe Moneyball won't be so bad after all? It was just a year ago when the adaptation of Michael Lewis' seemingly unadaptable baseball tome was all abuzz. That version — with Brad Pitt lined up to play the book's central figure, Oakland Athletics General Manager Billy Beane — was to be helmed by Steven Soderbergh and promised to be something like Jerry Maguire mixed with The Informant! mixed with the Soderberghian touches everyone has come to know and love. Well, almost everyone, since Sony company co-chair Amy Psacal pulled the plug on Soderbergh (and made him sound like a reckless cowboy — how dare he want a budget of $57 million for a movie staring international icon Brad Pitt?!) and passed the project along to director Bennett Miller (Capote) with Pitt still attached to star. And you know what? It still sounds like a movie Soderbergh would be proud of — at least in the casting.
With Pitt and Jonah Hill already on board — Hill would play Beane's assistant GM, Paul DePodesta — two more actors signed on yesterday: Kathryn Morris as Beane's wife and Chris Pratt as player Scott Hatteberg. And no disrespect to Morris, but it's the Pratt casting that has us giddy with anticipation. Not only is it out of the box — the Parks and Recreation star has mostly kept to television over his career — but it's also kinda inspired since Pratt and Hatteberg look very much alike.
The Oakland designated hitter was one of the poster boy's for Beane's moneyball aesthetic in that he was a scrap heap player picked up for minimal salary and went on to produce some fine and cost-effective results. If reading that sentence made your eyes glaze over, you've found the issue with Moneyball as a film. But if anyone could make this interesting it's Pitt, Hill and Pratt. Now if Sony can only find room for Pratt's Parks and Recreation co-star Nick Offerman….Didn't the A's have a bullpen catcher or something?