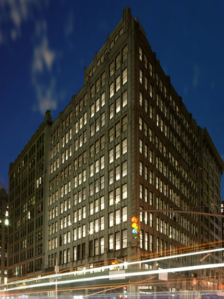 — The Du Pont dynasty has added a Park Avenue condo to its coffers and Jameson Du Pont, the great–many times–granddaughter of Huguenot watchmaker Pierre Samuel, will evade the couch-surfing legacy that befalls her fellow New York City interns this summer. The Du Pont alternative to the traditional graduate dwelling is a $1.055 million Gramercy apartment at the exclusive 260 Park Avenue South. Ms. Du Pont co-signed the deed with her father, Reynolds Du Pont Jr., who resides on Fishers Island.
The Du Pont family, whose net worth amounts to some $13 billion, once played a role in the Louisiana Purchase and currently includes or employs 25 percent of Delaware's state Legislature, according to Time. A number of subsidiaries of the 200-year-old Du Pont company are based in New York, where Ms. Du Pont, who has a master's in sports leadership, has been interning in communications for Right to Play, an international non-profit organization that promotes sport as a means to social development.
Purchased from Diana Lugazzo, vice president of marketing at Calvin Klein, Ms. Du Pont's new home is, according to an exaltation of a writeup at The New York Times, located in "arguably the chicest building on Park Ave South." The listing also makes mention of a keypad system in each room of the apartment which allows streaming of an iPod playlist "at the touch of a button," and pictures show a sizeable bedroom and a bright, open-plan living room at the corner of the building. Further selling points: the lobby apparently "resembles an art gallery" while the bedroom has "a California Closet wardrobe system." And who can live without one of those?