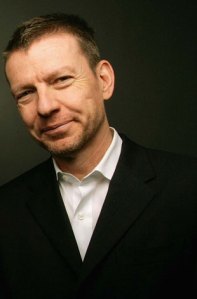 Just over four years ago, The New York Times' magazine empire was getting bigger and richer, and a reward was in order. In March 2006, executive editor Bill Keller announced that his old friend Gerry Marzorati would be put on the newspaper's masthead, a gilded spot alongside the other top editors at the newspaper. Mr. Keller said that the magazines had "flourished" under Mr. Marzorati's leadership. What he meant, in part, was that the paper's magazine empire — including T Magazine and others — had become a cash cow for the strained Times Company, so Mr. Marzorati, the editor who oversaw it all, was getting the perk of seeing his name in the paper every day.
And then the economy buckled. The Times' magazine empire got smaller, just as it did at newspapers across the country. Play, a sports magazine Mr. Marzorati started and treasured, was shuttered. T Magazine was scaled back. The size of the magazine was reduced, and some content, like "The Funny Pages," a much-debated Marzorati concept, had to go.
And then, according to current and former staffers, the place began to devolve. The New York Times Magazine, once a plum assignment, felt like a different place to work. Morale dropped, and some big names began to leave. It became — within that shark tank that is The Times — one of the unhappier places to work at 620 Eighth Avenue.
While the economy can be blamed for affecting any magazine staff's morale over the past few years, several Times sources said that things at the magazine grew unusually tense, for two reasons. The first, they said, was that Mr. Marzorati seemed less engaged and less ambitious, and that had an effect on the staff and the magazine itself; second, they said a personnel decision he made-the appointment of a new deputy editor-created some animus that has yet to fade.
So, one month ago, when Bill Keller announced that Mr. Marzorati would leave the magazine for a new job at the Times Company, it seemed, in many ways, an inevitable outcome.
One can argue that no editor during these times could make the magazine any better than Mr. Marzorati did. Yet one thing seems clear: The new editor of the magazine, whom Mr. Keller told The Observer should be named by late August, will have work to do.
'This isn't an easy topic,' said Lynn Hirschberg. 'It makes me sad. I don't dislike or hate Gerry at all. I feel things went wrong somehow.'
ONE OF THE favorite parlor games in New York media is to debate whether The Times Magazine has lost its luster. It's over! It's dull! It's too dry! Why was yet another abortion story on the cover? Yet they still get the goods: stories by Dexter Filkins, long investigative pieces that few other magazines still invest in, and the ProPublica joint production that won both a National Magazine Award and a Pulitzer Prize.
The night after the Pulitzer announcements in early April, Bill Keller met with Gerry Marzorati for drinks at Colicchio & Sons on 10th Avenue. Mr. Marzorati said he always imagined staying on at the magazine through the 2012 election. But then Mr. Keller proposed an idea.
"He said, 'What have you got left to do here? You've done everything you are going to do here,'" Mr. Marzorati recalled in an interview describing the night, which eventually led to dinner with both of their wives. "And I said, I got it. There isn't going to be any new big thing I was going to do here and seven years is a long time, and it's like twice as long as my predecessor. It's longer than most people have to edit a magazine, so I said, 'Yeah, O.K., you're right, let's do this now.'"
The new job they were discussing was what Mr. Marzorati described as making the Great Wall between editorial and business "less rigid or more permeable." He said he doesn't mind if you call him a businessman now.
"We're going to expand the local pages that we are doing in San Francisco and Chicago into Los Angeles. So should we cover Los Angeles like we're covering San Francisco, and cover it like a local story?" he said, explaining hypothetical situations in his new job. "Or should we be making a play to cover Los Angeles in the way we cover Washington, as a company town?"
Should DealBook, the Andrew Ross Sorkin-created franchise, expand to Washington and Los Angeles?
When looking back at his tenure, Mr. Marzorati twice made the point that he served longer than his predecessor. Yet Adam Moss, the current editor of New York magazine, had a celebrated tenure at The Times Magazine and also had a markedly different style than Mr. Marzorati's. He was hands-on and wanted to be involved with every decision. There were lots of meetings, and lots of conversations about nearly every page. Mr. Marzorati, who was Mr. Moss' deputy, has had a different style: He likes to delegate power and puts a lot of trust and authority in his deputies and story editors.
"I think Gerry is a very democratic person," said Stefano Tonchi, the former editor of T Magazine, who took over Condé Nast's W Magazine earlier this year.
When all the magazines at The Times were doing well, staffers saw Mr. Marzorati's approach as a blessing. But by the time budgets started to dwindle, his style was reinterpreted. "When there's a hands-off approach, when things are going well, everyone's happy," said one former staffer, "and when things aren't going well, it feels like no one cares."
During the difficult time, some staffers said, Mr. Marzorati seemed to lose some of his energy. "I think I and others felt that Gerry was less ambitious and less engaged in those last couple years," said a former staffer.
"I don't even know if he changed, or the situation changed, but that enthusiasm that he had for contemporary culture and art and design and fashion and music somehow was still a part of his life, but not in his magazine," said Mr. Tonchi.
"I think what changed at the magazine over the last three to four years was Gerry's engagement with the magazine," said Lynn Hirschberg, a former editor-at-large for the magazine who followed Mr. Tonchi and became an editor-at-large at W. "Part of the reason why it was so frustrating is because I respect Gerry, and Gerry changed."
"Morale deteriorated pretty far down," said yet another former staffer, who added that the magazine had lost the "dynamism" of the past few years.
And then several big names began to leave. Mr. Tonchi and Ms. Hirschberg both decamped to W (Mr. Tonchi was replaced by Sally Singer from Vogue, seen by many as a coup for The Times); Paul Tough, a popular story editor, took a buyout last December; Kira Pollack, a deputy photo editor, took a new job to become the director of photography at Time; and Matt Bai moved from the magazine to the newspaper.
New job opportunities are new job opportunities, but the soured environment at the magazine contributed to the departures, sources said.