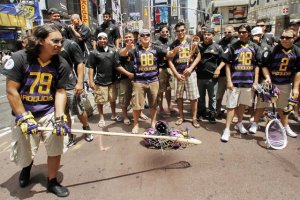 The Iroqouis national lacrosse team is still stranded in New York today, using the time to take in an Adam Sandler movie and go sight-seeing, as they engage in a stand-off with the U.K. Border Control over their right to use sovereign documents for international travel.
The Nationals have been forced to forfeit the first match of the lacrosse championship in Manchester, England, and it remains to be seen if they will make it across the pond for game two.
Senator Kirsten Gillibrand has expressed her support for the team, as have other local politicians.
"Senator Gillibrand is disappointed that the matter was not resolved in time for the team to participate in the tournament, said Glen Caplin, a spokesperson for the Senator. She plans to ask the State Department to work with the Canadian government and British governments, so that this kind of situation doesn't happen again.
Initially, the team had been barred from leaving the country by the U.S. State Department, but yesterday the State Department granted the team a one-time waiver for travel, along with letters guaranteeing them the right to re-entry.
Now, the UK has refused to accept the waiver and letters, saying they will only allow the players into the country if they come up with U. S. or Canadian passports.
"Like all those seeking entry into the U.K., they must present a document that we recognize as valid to enable us to complete our immigration and other checks," said a spokesperson for the U.K. Border Agency.
The team has said that using passports of another nationality would undermine their sovereignty and identity.
Although American Indians have used the Haudenosaunee passport for travel since the 70's, modern border control and increased security at airports have made the document increasingly outdated. It doesn't include a microchip, hologram, or other computer-readable information, for example. The Iroquois Confederacy has been in the process of modernizing the credentials for over two years, according to Chief Oren Lyons. They have already spent more than $1.5 million on the project.
James Cameron, the director of Avatar, has also taken up the Nationals' cause, donating $50,000 towards the team's expenses as they remain in the city. Since working on Avatar, he has become more engaged with the challenges facing indigenous peoples.