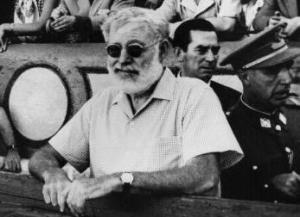 PBR goes upmarket.
Thanks, Remy Martin, for helping women feel comfortable with brown alcohol.
Helpful Esquire offers etiquette tips for men; for example, "A gentleman is never unintentionally rude."
It's Ernest Hemingway's 111th birthday.
Great books get trashed on Amazon.
An assessment of John Szarkowski, the super influential MoMA photography curator and critic.
How Al Qaeda's magazine can move into the 21st century.
FEUD: Pavement v. Pitchfork! For real!
No water at the McCarren shows? Countdown to hot hipster death
Next year may see battling Merchants of Venice on Broadway.
Writers (more writers) react to The Paris Review poetry purge.
Goddammit, smoking is linked to acne, too?