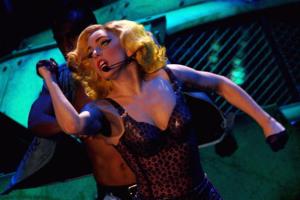 … And Jezebel responds to The Daily Show's response!
Writers whom HTMLGiant's readers wish to see naked: Jhumpa Lahiri, Miranda July, Sam Lipsyte, Emily Dickinson.
I'm Not Here to Make Friends 2010!
South Brooklyn slapped with severe Con Ed "brownouts" because of the heat.
Does Twitter make you horrible?
This young man cannot find a satisfactory job! Despite his fine education and hardy sense of entitlement!
The NYTpicker is horrified that The Times used a frying pan to cook an egg on the sidewalk.
Here is a promotional image of the cast of Mad Men. Fourth season starts July 25th.
Mushroom mousse wins PETA's faux foie gras challenge.
How can New Yorkers go for something this greasy in this weather?
Fashionista charts the recent round of musical chairs among fashion magazine editors.
Lady Gaga: "Without New York, I would not exist."