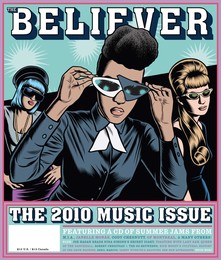 Morning Media Menu spoke with Believer editor (and author of The Lovers) Vendela Vida today. Among other topics, they discussed her magazine's web strategy.
"We like to pretend nothing has changed, and put out the same magazine we've always put out," Vida said. "Obviously we have a website, but it's not an integral part of the magazine."
"I feel like the magazine could exist without the website," she continued, "except that people like to go there to find back issues and back pieces. I have to say that we try to be as oblivious to all the changes going on as we can be."
She finds that her readers are people who "really just love the physical object of The Believer."
Also, take note: internet abstinence does not apply only to corporate America.
"I like the internet and I respect it," Vida said; however, she does not have internet at home.
You can listen to the whole interview below: