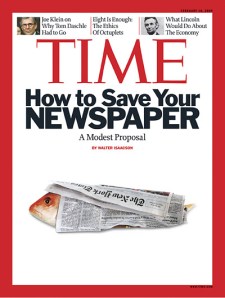 If you want to read Journalism Online frontman Steve Brill's cover story in Time magazine this week, you'll need an iPad or print edition of the magazine. The same goes for every other article in the issue.
This is more than just a paywall. It's as if the print edition doesn't exist online in a browser, except in preview snippets. Is now when we run to the space-age newstand?
Nieman Journalism Lab noticed yesterday evening that a paywall, for lack of a better term, had been erected on the site around content from the magazine. Earlier this summer Reuter's Felix Salmon noticed a paywall on the site, but it was later removed. Peter Kafka confirmed this morning that this time around the paywall is there to stay.
UPDATE: Mr. Kafka received a statement about the new paywall from a Time Inc. spokesperson.
We've said for awhile that increasingly we'll move content from the print (and now iPad)versions of our titles off of the web. With People, we haven't had hardly any content from the magazine on the web for a long time. Our strategy is to use the web for breaking news and 'commodity' type of news; (news events of any type, stock prices, sports scores) and keep (most of) the features and longer analysis for the print publication and iPad versions.