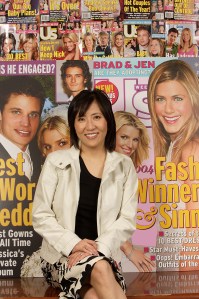 Janice Min, Us Weekly's formidable former editor and recent Hollywood Reporter recruit, has officially sold her "sprawling" corner loft at 285 Lafayette Street. The apartment, listed at $7.395 million in March, was scooped up 22 days afterward by a "secretive New York family," according to the New York Post. The Post reported that the apartment sold for $7.3 million, however city records now reveal that the sale went through for the much lower price of $6.2 million.
The Soho loft, listed by Brown Harris Stevens' William Grant and Jill Mangone, is located in "downtown's preeminent prewar full-service condominium," which counts David Bowie and Iman as owners. (Mr. Grant and Ms. Mangone declined to comment.) With 14 "oversized" windows, the nearly 4,000-square-foot two-bedroom includes rough-hewn oak beams, "sleek Italian cabinetry" and "arctic white" countertops.
The buyers remain shrouded in mystery, identified only by the LLC, LED Real Estate, while Ms. Min and husband Peter Sheehy appear as sellers on the deed. Mrs. and Mr. Min–he is a former history teacher at the elite Horace Mann school, where he featured prominently in a New York cover story about prep school kids spreading scuttlebutt on Facebook–are moving to Los Angeles, presumably because Hollywood Reporters report from Hollywood.
Ms. Min, who announced her "amicable" split from publisher Jann Wenner's empire almost exactly one year ago, wrote a February 2010 article for the New York Post about the tensions involved in being a female breadwinner (the editrix earned a reported $2 million per annum), stating her previous distaste for flashing displays of wealth: "I told a few women in the office the story of how when I was 27 I actually had refused to wear an engagement ring. Some of the women looked at me like I'd drowned their kitten; others were filled with awe. I explained that at that time in my life, I found something objectionable about how women judged other women by ring size ('poor so-and-so, her diamond's so small' translated into 'sucker, she's marrying a poor guy')."
cmalle@observer.com