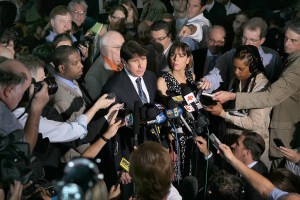 [Update here]
Douglas Belkin, a Wall Street Journal reporter covering the Ron Blagojevich trial in Chicago, was arrested on the job this morning. Based on a report on the Chicago Sun-Times media wire, it seems like Mr. Belkin was trying to interview one of the attorneys and then "put his hands on" a security guard who was trying to get him to back up.
"I told him three times to back up and he didn't," the security officer said. "He put his hands on me."
Based on the way things look on the scene, it's not hard to imagine everyone getting a little testy.