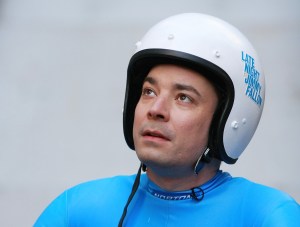 Late Night host Jimmy Fallon has been sued by an underling who was demoted and eventually fired, he alleges, because of his gender. This discrimination charge is surprising, not just because these lawsuits tend to go the other way around, but because Fallon is by far the frattiest of the late night hosts.
Complainant Paul Tarascio was a stage manager for Conan O'Brien, Fallon's predecessor at Late Night, and decided to stay at 30 Rock rather than head out to California with the pale one. When Fallon came in, Tarascio says he was told, repeatedly and in various ways, that Fallon "prefers to take direction from women," and his lawsuit alleges that Fallon doesn't even like to have his microphone placed on his person by members of the less fair sex.
Fallon's affinity for women could have been ginned up by other people on the show as an excuse to clear out some cobwebs, personnel-wise. Especially since Fallon treats video game releases the way other late night shows treat movies, and plays beer pong with his guests as a regular feature. None of that necessarily implies a feminine touch.
Court documents from the case can be found below, courtesy of E!