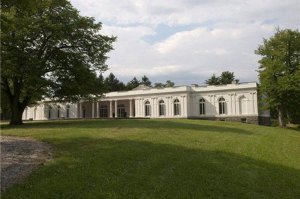 The Clintons aren't the only ones with complicated feelings about Chelsea's wedding in Rhinebeck next weekend. The town is crawling with state police and Secret Service who, in their exuberance arresting a pair of Swedish journalists, may have let the cat out of the bag as to the wedding's location.
The Astor Courts, known also Ferncliff, was built by John Jacob Astor IV at the turn of the century and boasts 50 acres of land on the Hudson. It is also where Swedish journalists Thomas Bjorn Nilsson and Kjerste Sortland were arrested on Wednesday for taking a picture of the property's gates, according to the AP. They were charged with trespassing and have most likely revealed where the top-secret wedding will occur.
The two were working for the Oslo tabloid Verdens Gang. Nilsson is a photo journalist and Sortland is a "menstrual journalist," according to this Google-translated account of the arrest in VG, both in town to cover the Clinton wedding. An editor at the paper defended their actions saying the wedding has a "public interest," an argument that's difficult to make for an American paper, let alone for a Swedish one.
State officials were as tight-lipped as they could be about the arrests.
State police Maj. Michael A. Kopy said officers will be diligent about keeping the estate secure.

"We're aware of the visit by the former president of the United States and are working with the U.S. Secret Service as we do with all visits by protectees of the Secret Service," Kopy said. "We're responding to calls (around the estate). Anybody who is located on the grounds of the estate will be arrested and prosecuted."
So doesn't this essentially confirm that the wedding will take place there?
We called the state police in Poughkeepsie, who are handling the case and barked a "no comment" when we asked.
Below, the Swedish journalists, courtesy of VG.