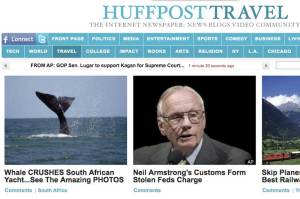 The Huffington Post's Travel vertical launched today and The Wrap points out that it will be helmed by Kate Auletta, daughter of longtime New Yorker writer Ken. According to them, she has previously worked as an assistant editor at WSJ. Magazine.
The Travel section marks, by our count, the fourth new section for the site this year, preceded by portions of the site dedicated to College, Arts and Food.
In her editor's welcome, Ms. Auletta recounts some of her fondest memories traveling with her family. She is joined on the masthead by Ethan Axelrod, son of David, and Nick Graham of the Washington Post Grahams.