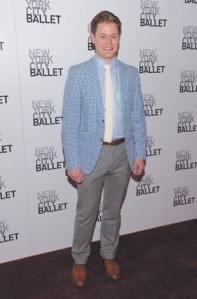 "You're kidding! Really?" said Fox Residential Group broker Joanna Simon, former companion of Walter Cronkite, upon hearing that Kipton Cronkite, of no relation to the late newsman, is becoming a real estate broker.
Asked if she thought Mr. Cronkite would make a good broker, Ms. Simon replied with a sweet laugh: "You know, I've never met him! All I know is that he pretended to be related to Walter, and Walter had never heard of him!"
Mr. Cronkite, who runs arts promo firm KiptonART, is joining the real estate ranks mostly to secure properties for his "floating art galleries," according to A. Laurance Kaiser IV, who runs the boutique firm, Key Ventures, that Mr. Cronkite will be joining.
"The greatest asset is someone who is intelligent, focused, attractive and has a great rapport with people who have confidence that what he says is accurate and to their benefit," Mr. Kaiser told The Observer. An interesting choice of phrase, considering Mr. Cronkite's most famous rapport to date is a false one with Walter Cronkite. Mr. Cronkite maintains he never encouraged a presumed connection between the legend and himself; others attest he propagated the myth to leverage social status.
"I mean, I don't know, everybody's the 97th cousin of everybody else," Mr. Kaiser replied with a sigh. "Seventy-five percent of people who have created their own social and business careers invented their backgrounds, and if it doesn't hurt anybody …" He trailed off before concluding, matter-of-factly, "It's not where you start; it's where you end up."
Though Ms. Simon lamented, "I really feel there are so many real estate agents out there right now and only about 20 percent of them are successful; 80 percent are trying to be successful but they aren't really. I really think he should stick to whatever it is he is doing now because he'll probably be a lot more successful."
While the former money manager plans to focus on commercial spaces, Mr. Cronkite conceded that if the occasion arose "he would be open to" dabbling in the residential market. ("He'd be crazy not to!," Mr. Kaiser said, especially should his art world friends seek him out. "You know, you've got to make hay when the sun shines.") Generally, of his move into real estate, Mr. Cronkite told The Observer, "I really see it as a collaborative exchange between what KiptonART is doing already and how I can really help become more of an ally with the real estate community."