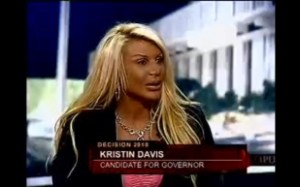 Former madam Kristin Davis won't have much money to drum up support for her new pro-pot, pro-prostitution, pro-gambling, pro-gay marriage party–even after she decides on a name.
According to her filing with the state Board of Elections, Davis has only received six cash donations for $5,380.
Her biggest benefactor seems to be her adviser, Roger Stone, who chipped in three in-kind donations worth $16,546.
Ms. Davis contributed to her own campaign, in the amount of $5.
UPDATE: Ms. Davis, it should be noted, forfeited quite a bit of cash to the state as part of her guilty plea in 2008, and her fundraising numbers aren't unprecedented for an outside candidate.
"Minor party candidates always have a delay in raising money before they actually get on the ballot," said her adviser, Mr. Stone. "Davis will have what she needs for a targeted campaign to get 50,000 votes."